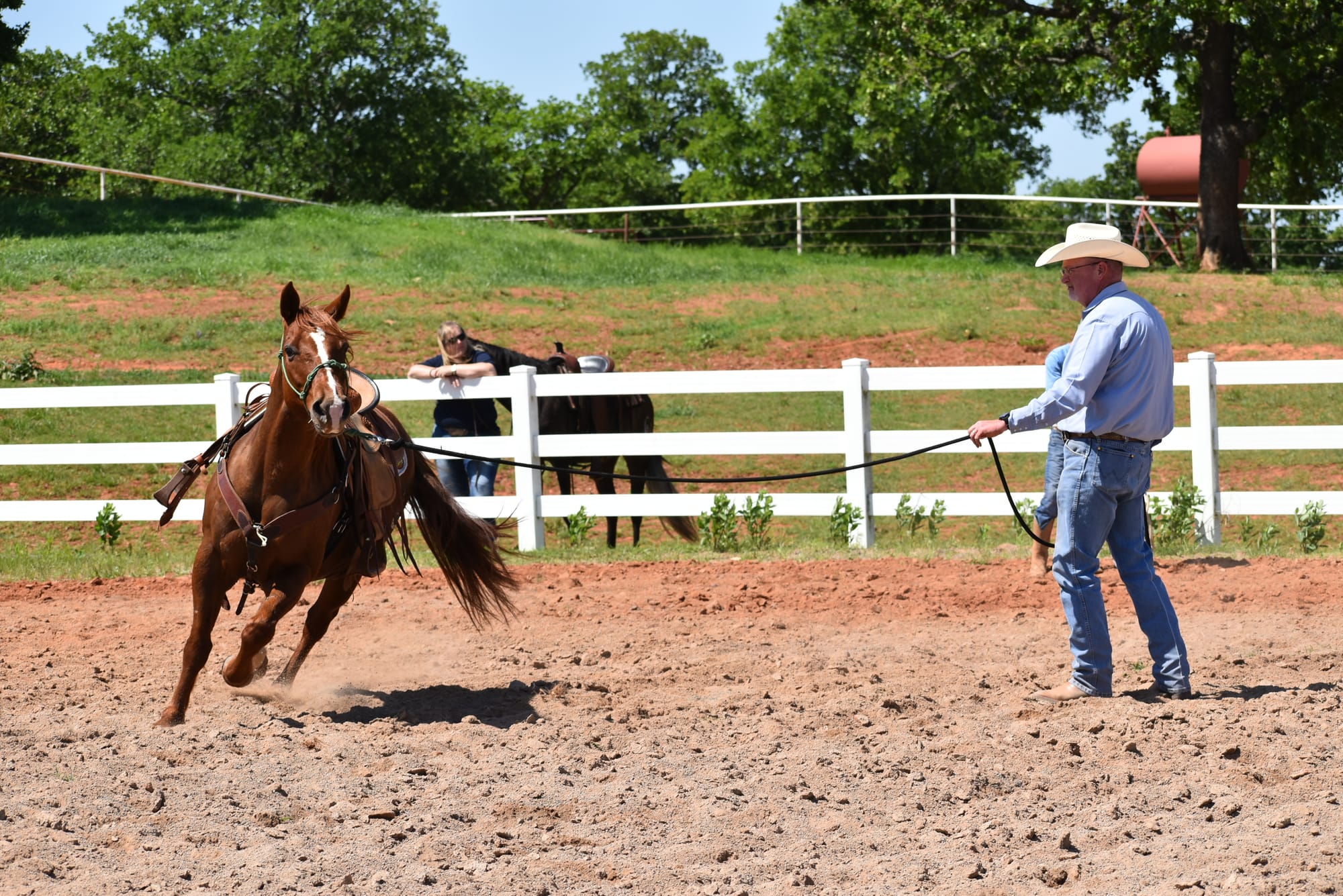 ---
Training is an important part of horse ownership and here at Bar 3 R we believe that Natural Horsemanship is the best way to train your horse. Natural horsemanship takes what your horse instinctively knows and harnesses it to your benefit, making your horse a willing and respectful partner. We specialize in teaching you to get your horse soft and supple so that they can "listen" to what your cues are telling them. Our rope halters help you communicate with your horse without stressing them out so much that they can't hear what your cues are telling them. It doesn't matter what discipline you enjoy, a soft faced horse will excel farther, faster than a horse that is high headed and won't listen to your cues. Here's a couple of training videos to give you an idea of what we do here! Let us know if you have any questions or specific help with anything.
---
Creating Big Stops
Creating big stops. I get asked a lot what's the secret to make your horse stop big. There's really no secret to it, it's all about the back up. If you can get your horse to start thinking of backing up before they think about stopping you've got it handled. How do you do that? you start by backing your horse up every time you stop. That means EVERY TIME ! Even when you are leading your horse and stop, back them up. We have been working on Momma quite a bit with her backing up. Her forward is so good that it's been a bit of a challenge to get her to stop and back up. We made a big break through on the last couple of sessions. As you will see she is stopping pretty hard and taking a step back after she stops. Prior to this she had been leaking forward after she stops. This isn't something that happens overnight so just be patient and stay after it. As always if you have any questions or need our help just holler at us!
---
---
SETTING GOALS
---
Setting goals is an important part of your training regimen. We recently took on a horse to train for Blazes Tribute Equine Rescue Trainers Challenge. The first thing I did when I decided to do this challenge was to set the goals for the horse. I hadn't even met the horse or have any idea what the horse did or didn't know when I made my list. The knowledge of the horse doesn't matter, my training list is exactly that, mine. The list of things that I want the horse to know is the only thing that matters when you set your training goals, Even a seasoned horse may not know all of the things on your list and I want every horse I work with to know all of the things on my list. With that said, the things that they already know is a bonus, that just means that you get through your list ahead of schedule and can spend more time on the things that the horse doesn't know.
The key to success in training really boils down to two important points, first; break down your training steps into what I like to call "micro habits". That means don't make the steps too large for the horse or yourself to be successful. If your goal is to have the horse step across on its front end, get one or two steps the first session and build on it from there. Before you know it the horse will be doing a full 360. Second; repetition is the key to success. even if you're sure the horse can do it, do it again and make sure you work both sides of the horse so that they are the same on both sides. that may take more reps on one side or the other to be successful but that will make a more balanced horse.
Remember that your goal list is fluid. If you have a date set for a particular exercise and it comes and goes without that exercise being complete don't move on to the next one until it's complete. In the same vein if you are ahead of schedule just keep going, you may need that time on another exercise. Don't over do it by asking too much from your horse though. I recently spent one whole training session trying to do something that the horse wasn't ready to do. The next day I took a step back and he was a completely different horse because he felt confident in what I was asking him to do. in a couple of days I went back to what i wanted to do before and he picked it right up.
You must understand that your job as a trainer is to make the best horse you can possibly make for you or your customer. If you take your time and do it right there will be no doubt in your mind that you did everything you could do to make the horse successful. The reason there are so many horses that need rescued is that there are a whole lot of horse owners that are uneducated as to what it takes to be a good horse owner. Are there bad horses out there? Absolutely! But there are whole lot more people that need to be educated than there are bad horses. I walked through all of the horses Before we picked D as the horse I wanted to train. There really weren't any bad choices, just different.
D has come a long ways as a productive citizen. In the two and a half months he has been with us he has excelled in many of the exercises and not so much in some of the others. We are "behind" in the riding department. This is a choice he and I made together. He has told me by his actions that he just isn't ready. Could I force him into it before he's ready? Absolutely, but that wouldn't do him or I any good. He would regress in his trust issues and I would most likely end up hurt, I'm too old to hit the ground! We are continuing to bond and he trusts me more every day. He's had so many firsts, I assume, in his life. He's got to experience a chiropractor, good and consistent feed, fresh water, and people that have his best interest at heart in me and my wife. I'm not sure where or how this journey is going to end but I do know that he will be a better horse and a great companion for someone.